How will people pay in the future?
It's a legitimate question in this fast-evolving digital payments world. With consumers demanding frictionless, fast and anywhere, any device transactions, innovation in digital payments is front and centre. From Fintech disrupting the scene to traditional players being squeezed to innovate faster – the pressure is relentless.
Payments companies must anticipate what's next.
Here we'll look at 5 of the top digital payments trends in 2019.
1. Voice commerce
Emarketer forecasts the number of US smart speaker users will grow from 16 million in 2016 to 76.5 million in 2020. That's significant growth.
Voice commerce and smart speakers provide consumers with a convenient alternative to using a keyboard and mouse to purchase products online. Customers need to issue a simple voice command, and their Google Assistant or Amazon Alexa will assist them in buying groceries, and virtually any other household item all from the comfort of their home.
And other companies have jumped on board too. Large chains like Domino's and Starbucks allow users to place an order through the devices. Just by speaking "Alexa, open Dominos and place my Easy Order," you can have dinner on the table with one quick statement. Starbucks has a similar feature and lets you place an order using Alexa with the Starbucks Reorder skill.
CNET compiled a list of the 50 most useful Alexa skills, that includes everything from finance to fitness.
As smart speakers and VPAs become more intelligent and more companies offer voice-based purchasing, the smart speaker world is set for massive growth.
2. P2P (peer-to-peer) payments
In 1999, Paypal (known as Confinity at the time) wanted to realize a world where businesses and individuals could seamlessly transfer money to each other.
Fast forward to today, and the open digital payments platform gives "PayPal's 277 million active account holders the confidence to connect and transact in new and powerful ways, whether they are online, on a mobile device, in an app, or in person."
There are now countless ways that small businesses and individuals can accept payments, transfer money, or send gifts through platforms like Venmo, Stripe, Square, Xoom, Braintree, Zelle, Google Pay and more.
Lenders are also getting into the game with P2P lending on the rise. P2P lending matches lenders with borrowers through online platforms such as Lending Club, Upstart, Fundrise, and more. According to a report by Transparency Market Research, they expect the global peer-to-peer lending market to witness staggering growth with 48.2% CAGR during the forecast of 2016 to 2024. They expect the market to be worth $897 billion US by the end of 2024.
Technology continues to evolve how payments are accepted and are opening the world up to anyone anywhere accepting payments.
3. Contactless payments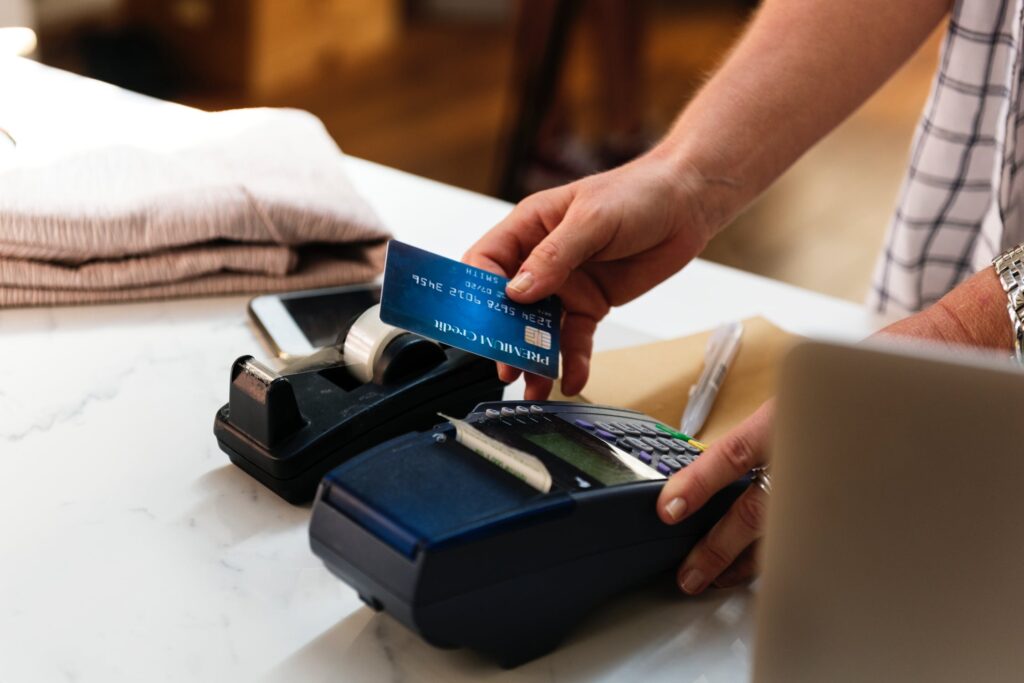 The slow adoption of mobile wallets has opened up the world of plastic cards again. Once considered a product that would be obsolete, a resurgence of plastic cards is occurring.
These cards aren't your typical debit card with a chip, contactless cards, ironically use the same RFID and NFC (near field technology) that mobile wallets use.
Contactless cards dominate in the UK, Europe, and Canada, making up almost 40% of face to face transactions. However, in the US, the payment technology was slow to catch on, which leaves the door wide open for a resurgence of contactless cards.
"Contactless, biometrics, and EMV are expected to drive credit card volume growth in mature markets, while robust credit scoring models that leverage data are expected to increase credit card volume in developing markets," according to the 2018 World Payments Report from Capgemini and BNP Paribas.
Contactless cards often referred to by marketers as "tap and go" are meant to make everyday small transactions easy. Transactions using the cards take only two seconds compared to chip cards that can take up to ten seconds, and once consumers become more familiar, they will enjoy their ease of use.
According to the Visa Global Highlights report, they expect more than 100 million Visa contactless cards to be issued in the US by the end of 2019, giving consumers the ability to tap to pay where they make most of their purchases, such as fast-food restaurants (81%), pharmacies (92%) and grocery stores (64%).
4. GEN Z
Can a generation of young consumers be a digital payments trend? Absolutely! 68% of Gen Z consumers are interested in person-to-person payments — more than any other age group, according to the Accenture 2017 North America Consumer Payments Pulse Survey.
Gen Z, born between 1996 and 2010 and coming up right behind the much talked about Millennial generation, hold up to $143 billion in spending power. And they haven't yet developed brand loyalties or started using financial products beyond a simple bank account.
This makes GenZ a massive opportunity for players in the space.
Gen Z is very different from older generations; they grew up digital natives. They haven't lived a moment without Google, Facebook, Instagram, Apple and Amazon.
This generation is upping the ante. As GenZers move toward college and their first jobs, their financial needs will become more complex, giving them the ability to reshape payments radically.
This group will account for 40% of all US consumers by 2020. To succeed, it's time we start understanding them.
5. Digital goes mainstream (mobile payments continues to grow)
It's no secret — we are attached to our smartphones, and because of that attachment, mobile payments are driving digital payments momentum.
"Digital payments is on the verge of becoming mainstream— consumers will use digital payments more in 2020. 56% of consumers are now aware that there is technology to use their phone to pay."
Data continues to suggest that consumer readiness to move to digital payments is continuing its upward trend with early adopters like millennials leading the way.
Although consumer awareness and desire to pay by mobile is there, one major roadblock exists – North American businesses have been slow to invest in modern card readers. Even if people want to pay by smartphone, they often can't.